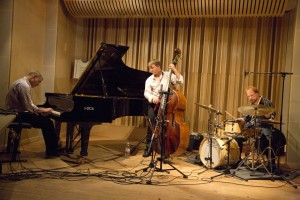 Conversations with Owls
This 2015 recording features Jeff Cosgrove, Drums; Frank Kimbrough, Piano; Martin Wind, Bass. A recording group conversations and featuring unique arrangements of two beautiful standards!
"Drummer Jeff Cosgrove's Conversations with Owls is an ode to twilight and dark coming on dawn, a percussively melodic tone poem — thanks also to the sensitivity of pianist Frank Kimbrough and the sturdiness of bassist Martin Wind — in which the musicians' curiosity, insight, originality and interactions address silence and secrets, arriving at unusual beauty." – Howard Mandel, Jazz Journalist Association + DownBeat
Conversations with Owls – Interviews, Reviews, & Mentions:
All About Jazz review #1 – 4 Stars!
All About Jazz review #2 – 4 1/2 Stars!
All About Jazz review #3 – 5 Stars!
All About Jazz Italia review – 4 Stars & CD of the week!
Avant Music News review – 5 Stars!!!
Bird is the Worm recommendation…"A real vibrancy to this session, one that evokes plenty of imagery and intrigue."
el intruso review…"The trio led by Jeff Cosgrove offers, in Conversations with Owls, exquisite, stimulating, thoughtful work, which also helps to check the inexhaustible connection between memories and music."
Frederick News Post review…"Jeff Cosgrove reaches so far beyond the parameters of mere beats and time signatures and groove that calling him a drummer is barely the beginning."
Gapplegate Music Reviews review…"Jeff Cosgrove once again impresses with his open-time creativity and melodic sense."
Jazz.pt review – 5 Stars!
Jazz Weekly review…"Almost ambient in delivery."
Musiq.fr review.
Percorsi Musicali review…Google Translate works pretty well.
The Selected Ballads review…"Conversations With Owls is a rewarding listen start to finish."
SomethingElse! Reviews review…"Conversations With Owls isn't really about birds, it's about cats, and these cats are having musical conversations that are on a higher plane than most."
The Step Tempest review…"Jeff Cosgrove, Frank Kimbrough and Martin Wind have created an album which draws one back again and again, back to get lost in its mysterious beauty.
tomajazz review…google translate works pretty well.
"Like very few drummers out there, Jeff Cosgrove is able to balance subtle textural work and drive, free space and multiple compositional settings. His Conversations with Owls finds him in a shadowy, reflective space with the superb pianist Frank Kimbrough and big-toned bassist Matt Wind. To say it's low key doesn't quite capture the power and the invention of tracks like "Stacks of Stars," the incandescent "The Owl," or the gorgeous "I Loves You, Porgy." If you want a state of the art piano trio, somewhere between Fred Hersch and Marilyn Crispell, snap this album up with a quickness." – Jason Bivins, Cadence
"Drummer Jeff Cosgrove's Conversations with Owls is an ode to twilight and dark coming on dawn, a percussively melodic tone poem — thanks also to the sensitivity of pianist Frank Kimbrough and the sturdiness of bassist Martin Wind — in which the musicians' curiosity, insight, originality and interactions address silence and secrets, arriving at unusual beauty." – Howard Mandel, Jazz Journalist Association + DownBeat